---
Dry and Brush Your Pet Fast and Easy!
Blow and comb the pup's hair at the same time comfortably. Your pet will dry quickly and will enjoy a comfortable massage. While the fur dries, the brush simultaneously ensures a radiant combed coat. The stainless steel bristles have a soft tip protecting the skin and coat. Brushing stimulates blood flow, and keeps your dog relaxed. The brush is slightly tilted so that brushing is done in the most comfortable and safe way.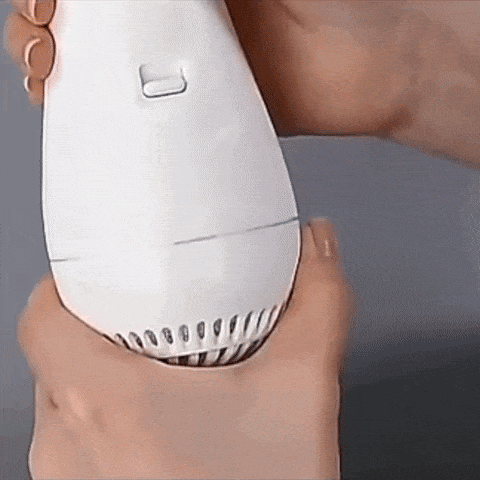 Your benefits
✔ Safe for dogs, cats and small animals
✔ Not scary or uncomfortable for animals
✔ Two temperatures: 60°C (140°F) or 80°C (176°F)
✔ Blow dry and brush at the same time
✔ Compact and lightweight
✔ Ergonomic Design
✔ Low noise (<65 dB)
Low noise (>65 dB)

Pets in general don't like loud noises. Most hair dryers are large, heavy, and make a lot of noise. Thanks to the special low-noise function, the noise of the motor of the Pawfun hair dryer is minimal. This will make your pet feel safe and comfortable. A calm animal is of course a lot easier to care for. 
2 Temperature settings
The temperature of an animal hair dryer is of course much lower than that of a human hair dryer. Never use a human hair dryer on animals! The Pafun pet hair dryer offers a choice of two settings: Low (60°C) or High (80°C). A high setting to dry extra quickly, and a lower setting to use on sensitive areas or areas where you are closer to the skin. Both settings are warm enough to kill any bacteria scurrying around in your pet's hair.
Specifications

Dimensions: 280 x 125 x 65 mm
Power: 300W
Voltage: 100-240v (Dual Voltage)
Cable Length: 2 m
Mystery Box Giveaway
Each 10th order gets a free Mystery Box worth 30$ added to the order!
Promotion valid until 31 January 2023