---
Parents' favorite brush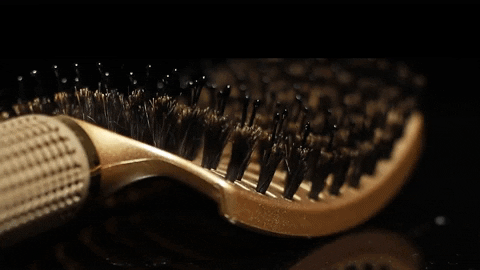 Many will recognize. The child's knotted hair make stressful mornings. End the tears and screams that come with tangled hair when you get out of bed.
Put an end to morning tangles with our detangling hair brush to help you deal with everyday worries.
Replace tears with smiles, save precious time, reduce stress and start each day with joy.
The effect of the dual bristle technology
The magic of the Silkybrush is its dual bristle technology. It alternates between nylon detangling pins and boar bristles.

Easier detangling

It's normal to have hair tangles in the morning, but some hair is more prone to tangling than other. The Silkybrush effectively solves the problem of tangles and split ends, regardless of hair type. The nylon detangling pins loosen knots and split ends with the first stroke of the comb, making it easier to style and less likely to hurt or break. Its pins reduce the risk of hair loss after shampooing.

Pefectly smooth
While the detangling pins remove the knots, the boar bristles of the Silkybrush make it smooth. These are naturally rich in keratin, a protein that softens, smoothes and shines hair.

The bristles of our brush are thus able to:
Straighten out the curls
Smoothen the hair
Strengthen the hair

In addition, the antistatic bristles reduce static electricity in your hair. Whether you have curly or straight hair, this brush will get the job done.
Reduce hair loss by 80% 
What's the point of having a detangling brush that loosens knots and smoothes your hair gently if doesn't limit hair loss? When you grew your hair out for so long, it's maddening to see losing entire clumps simply because you didn't choose the correct styling tool.

By reducing split ends, the Silkybrush reduces hair loss by up to 80%. Since it's easier to detangle, there's significantly less breakage. 

A detangling brush for all hair types

On straight hair, our magical brush, thanks to the boar bristles, straightens the strands and smoothes the lengths. Being extra wide, the brush covers a large surface of your scalp and the spikes go as close to the roots as possible for quick detangling. You can also use the Silkybrush if you have curly or frizzy hair. While the spikes grip knots to loosen them, the natural warmth of the boar bristles softens the strands, making it easier to smoothen the hair.
Unlike most hair brushes available, our detangling hair brush is not just a detangling and smoothing accessory. It also improves the health of your hair if it is naturally dry.

On dry hair, the Silkybrush boar bristles provide a better distribution of the hair's natural sebum throughout its length, from roots to ends. Well nourished, your hair is less dry and less brittle, which also contributes to limit hair loss. If you have fine hair, your hair becomes fuller and shinier.

If you have oily hair, you probably have excess sebum at your roots and on your scalp. When brushing, the boar bristles remove excess oil from your roots and rid your scalp of pore-clogging particles.

Silkybrush for healthy hair growth

In addition to seamlessly brushing the hair, the Silkybrush also works on the scalp. While brushing, the pins and bristles reach the roots. They loosen dandruff and stimulate good blood circulation in the scalp, optimizing hair growth.

No matter what type of hair you have, the Silkybrush detangler is the perfect ally to keep your hair well groomed.

This is a professional brush used by experienced hairdressers, now finally FREE for all new customers.
Get it for free until stocks last!
Mystery Box Giveaway
Each 10th order gets a free Mystery Box worth 30$ added to the order!
Promotion valid until 31 January 2023
Good
Got it for the wife. She likes it cause the shape. Function is good but not really a big difference
Stylist Review
I have been a hairstylist almost 30 years, and this is hands down my favorite brush. EVER.
Pros:
Detangles
Great for blow drying
Comfortable bristles on the scalp
Comfortable in my hand
Clients love it
Cons:
I didn't order more
Greatest brush I've ever owned!
I NEED TO VENT ABOUT HOW GREAT THIS BRUSH IS! Thicc hair kweens rejoice. My stylist used this brush on me during my last salon visit…I wouldn't leave until she told me where she got it. Maybe this is typical of most professional hair brushes but the box presentation made me feel like I was getting a $50+ brush. Will only buy Silkubrush from now on!
Interesting brush
My hair dresser uses same type of brush and I wanted to try it on my wavy hair. So far good.